NanoFerrous - Chelated Ferrous -Amino Acids Base Ferrous-Iron Chelate Fe- 12%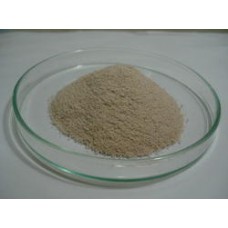 Nano–Ferrous
(Amino acids base Ferrous Chelate,Fe- 12%)

Causes of iron deficiency :iron is present in the soil but in forms not available to plants. Imbalance of metallic nutrients such as copper and manganese, excess of phosphorus, high soil ph, high lime, high soil moisture and cool temperature, high levels of bicarbonates and other factors.

Identifying Iron Deficiency : Chlorosis or yellowing of leaves becomes very marked on new growth. Typically a network of fine green veins is patterned against lighter coloured background. Soon whole leaves become ivory coloured or totally yellow. These symptoms vary from crop to crop.

Benefits:

Nano- Ferrous ( Ferrous Proteinate ) stimulates and regulates enzyme reactions for growth and development of crops as iron activates several enzymes.
Nano- Ferrous increases chlorophyll content of healthy green leaves. It also prevents chlorosis and spiraling of leaves.
Nano- Ferrous increases the productive tillers in wheat and paddy. It induces resistance to pests and diseases.
Nano-Ferrous boosts growth rate, dry matter accumulation and increases yields.
Nano- Ferrous can be safely used to prevent and correct iron deficiency in all crops.
Nano- Ferrous is 100% water soluble powder available in 25 kg bulk packing.
Dose:
Powder Formulation: 1 -1. 5 gms per lit. Water for spray, 2-4 sprays are recommended on various stages of crop.
Foliar Spray: 1 g / liter water.
Drip & Sprinklers: 300-400 g / acre.
Seedlings /Root deep: 10 g /lit.
Seed Treatment: 2-3g/ kg. Seed.
Compability:
Nano- Ferrous is compatible with most of the pesticides and micro nutrients formulations.
Toxicity:
Nano- Ferrous is eco friendly naturally derived product & free from any toxic effect & can be safely used till harvesting.
Packings: 25 Kg HDPE Bag
Specification Data Sheet
Product

ProtaMin- Ferrous

Amino acid base Ferrous Complex, Fe 12%.

Application.

Used as a chelated mineral nutrition in agri, animal & nutraceutical industries.

Description

A fine, free flowing spray dried powder containing amino acids, short chained peptides derived from high quality proteins by hydrolysis.

Colour

Buff brownish powder.

Solubility

2 % solution in distilled water is clear.

pH of 2% solution

4. 5 to 7. 50 at 27° c

Chemical parameters: ( on dry wt. Basis )

Total nitrogen (N)

4. 00% to 6. 00 w/w by kjeldahl's method.

Total protein (N x 6. 38)

25. 52% to 38. 28% w/w by kjeldahl's method.

Ferros content as fe

NLT 12. 00 % w/w
Additional Information:
 Port of Dispatch: Nahva Sheva , India
 Production Capacity: 100 MT
 Delivery Time: Prompt
 Packaging Details: 25 Kg In Multiwall paper Bag