Bhasma 71 ( Glyphosate 71% wdg ) Herbicide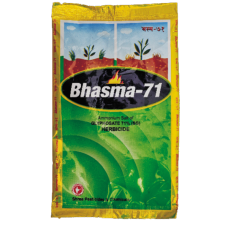 Bhasma 71 ( Glyphosate 71% wdg ) : Herbicide
We are engaged in offering excellent quality Bhasma 71 (Glyphosate 71% wdg) to our valuable clients. Bhasma 71 is a Isopropyl salt of glyphoste 71 % wdg.

APPLICATIONS of Glyphosate 71% WDG:-
Biochemistry Inhibits 5-enolpyruvylshikimate-3-phosphate synthase (EPSPS), an enzyme of the aromatic acid biosynthetic pathway. This prevents synthesis of essential aromatic amino acids needed for protein biosynthesis.
Mode of action Non-selective systemic herbicide, absorbed by the foliage, with rapid translocation throughout the plant. Inactivated on contact with soil. Uses Control of annual and perennial grasses and broad-leaved weeds, pre-harvest, post-planting/pre-emergence and in stubble, in cereals, peas, beans, oilseed rape, flax and mustard, at c. 1.5-2 kg/ha; as a directed spray in vines and olives, at c. 4.3 kg/ha; in orchards, pasture, forestry and industrial weed control, at c. 4.3 kg/ha. As an aquatic herbicide, at c. 2 kg/ha. Formulation types SG; SL.

Clients can avail this Bhasma 71 (Glyphosate 71% wdg) at industry leading prices from us.