NanoManganese - Chelated Manganese -Amino Acids Base Manganese Chelate Mn- 12%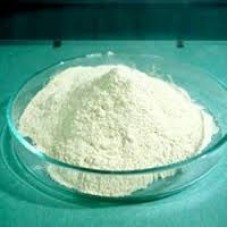 Nano –Manganese
(Amino acids base Manganese Chelate , Mn- 12%)
Causes of Manganese Deficiency
The use of lime at rates sufficient to increase the ph of the soil above 6. 5 , burning of organic salts, irrigation which increases the soil ph and deposits bicarbonates and carbonates and excessive drainage cause manganese deficiency.
How to recognize Manganese Deficiency
Interveinal chlorosis in the middle of the sub terminal leaves indicate manganese deficiency. In moderate and acute stages of manganese deficiency the dark green areas in the leaves become dull green and the light green areas persist throughout the life of the leaves.
Benefits:
Nano–Manganese( Manganese Proteinate ) is an organic manganese- amino acids based foliar spray that corrects manganese deficiency & provides organic nitrogen satisfactorily in all crops.
Nano–Manganese include prevention of inter-veinal chlorosis of the leaves, increasing productive tillers in various crops, inducing resistance to pests and diseases, boosting growth, consequently increasing yield.
Nano- Manganese is compatible with other agrochemicals and is ideal for correcting Mn deficiency in rice, cotton, wheat, sugarcane, , cardamom, coconut, rubber, coffee, banana, chilli, potato, apple, citrus, grapes, mango and other crops.
Nano- Manganese is 100% water soluble powder available in 25 kg bulk packing.
Dose:
Powder Formulation: 1 -1. 5 g per lit. Water for spray, 2-4 sprays are recommended on various stages of crop.
Foliar Spray: 1 g / liter water.
Drip & Sprinklers: 300-400 g / acre.
Seedlings /Root deep: 10 g /lit.
Seed Treatment: 2-3 g/ kg. Seed.
Compability:
Nano- Manganese is compatible with most of the pesticides and micro nutrients formulations.
Specification Data Sheet
Product

Nano- Manganese

Amino acid base Manganese Complex, Mn 12%.

Applications.

Used as a chelated mineral nutrition in agri, animal & nutraceutical industries.

Description

A fine, free flowing spray dried powder containing amino acids, short chained peptides derived from high quality proteins by hydrolysis.

Colour

Creamy white powder.

Solubility

2 % solution in distilled water is clear.

pH of 2% solution

5. 50 to 8. 00 at 27° c

Chemical parameters : ( on dry wt. Basis )

Total nitrogen (N)

4. 00% to 6. 00 w/w by kjeldahl's method.

Total protein (N x 6. 38)

25. 52% to 38. 28% w/w by kjeldahl's method.

Manganese content as MN

NLT 12. 00 % w/w
Additional Information:
 Port of Dispatch: Nahva Sheva , India
 Production Capacity: 100 MT
 Delivery Time: Prompt
 Packaging Details: 25 Kg In Multiwall BOPP Paper Bags